Work on oil drilling ship in Arctic region
Today oil extraction operations at sea around the world caaried out though offshore oil rig platforms requires hiring trained personnel of different trades and skills, because the oil production involves using complex machinery both for extraction, initial processing, and transportation of the crude to the terminals on shore.
Do you know what is an oil rig? This article is intended to inform job seekers of them as well as employment opportunities that exist at present, but which are unknown to many job seekers. Oil rigs are kind of small floating cities, with a number of people hovering between 150 and 400. All of them are professionals of different branches.
There are many various jobs on oil rig to provide smooth operation of the platform. A higher percentage of employees are the drilling and extraction personnel, but employer also requires administrative, cooking, cleaning, personnel, medical, maintenance, management personnel etc. Each position on an offshore platform has specific requirements, and all of them get a good compensation for the conditions under which employees work.
1000 job openings in Arctic region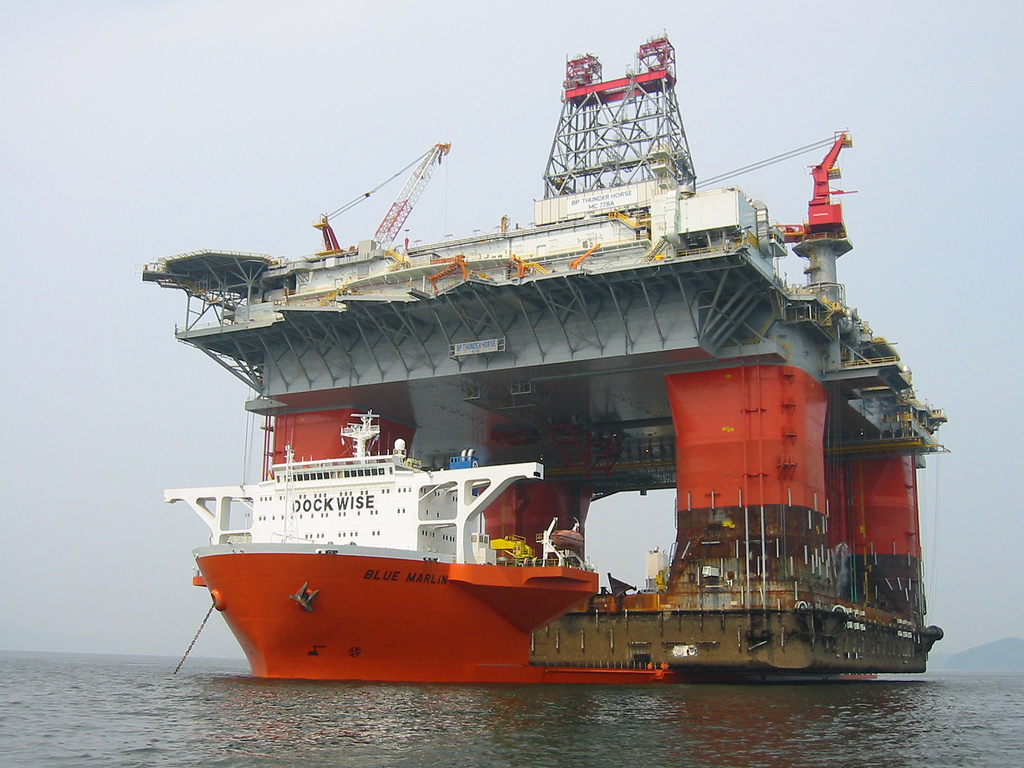 In the news:
The largest ship in the world for oil drilling. This vessel employes 1000 workers/seamen. The company Dragados Offshore, SA at its manufacturing facilities in Puerto Real (Spain) will build for the Norwegian company MPF Corp. the largest ship in the world for oil drilling, production and storage of oil. This innovative project, which is expected to invest about 220 million euros, is expected to provide to Spanish ACS Group companies, the outstanding volume of work before the end of 2009.
The company Dragados Offshore, SA is engaged in the development of detailed mechanisms, manufacturing and installation of the equipment on ships designed for the extraction and storage of crude oil, including installation of power units and to conduct a full test cycle, with the equipment and the ship operating in the real time working conditions at sea. To carry out this work at its plant in the coastal area of Cadiz, the company Dragados Offshore will build a new 300 meters long dock and a draft of 12 meters, designed for mooring the vessel. The vessel's hull is built in Dalian (China), and is expected to be delivered in Puerto Real Madrid in September.
Ship platform for the extraction and primary distillation will be 300 meters long, 50 meters wide and 27 meters high, and will provide storage up to 1 million barrels of crude oil. Companies MPF, which suggests to take the vessel to lease to oil companies and plans in the future to build more such vessels are required to shell and equipment of the drilling vessel can withstand temperatures down to -30 ° C and to ensure its smooth operation at any point in the Pacific Ocean, including in the harsh conditions of the Arctic waters.
The jobs on oil rigs for specialized positions require higher qualifications and work experience. However, there are certain positions for which it is necessary only to have previous experience, as in the case of the waiters, dishwashers, kitchen cleaners, kitchen assistants, platform laborer (roustabout), driller helper (roughneck), seaman (sailor), boiler operator, scaffolding and personnel staff cabins. Futher go welders, electricians, painters, launderers, cooks, computer programmers, engineers, scuba divers, laborers, etc.
Because of the oil drilling sector being not sufficiently known to the wide public, there is an increased demand for professionals on offshore oil platforms.
At this time, we mentioned an oil driller as imperative professional that can develop his work both in platforms and in oil refineries and pipelines, installing petroleum systems.
Working conditions
The work on the platforms is organized in a different way according to the company, but it is common that there are 14 working days and 21 days off, out of job, to shuffle one or two weeks of working with two weeks of recreation or project based work until the job is finished. Contracts vary between 6 months and 1 year, depending on the position offered. As for the wages, they are very high, note that. From 5,000 € to 15,000 € per month in the case of professional welders diving knowledge.
Requirements to be met to work on oil rigs
There is no need to have an authorized license to work on oil rigs, but it is essential to have passed a course to apply the knowledge acquired in it. It will also be necessary to have legal age, good physical condition, and mental and physical fitness.
The possibilities of communication on the oil rigs are the same as on land, as they have technology that allows normal communication via phone, mail or Internet.