Offshore drilling general labor jobs in Angola and other countries of Africa
General labor oil spill clean up jobs are available in Middle Africa: Angola, Congo, Central African Republic, Cameroon
How to apply for a job on an oil rig
Jobs of this type can be found on oil rigs overseas. There is a wide variety of vacancies, but generally the oil drilling jobs can be divided into the following categories: management and operations, engineering and scientific, drilling equipment, drilling equipment, catering, maintenance, and transportation. Depending on the development phase, not all categories are present on an offshore platform or drillship all the time. Specifically, the team includes drilling geologists, roughnecks, roustabouts, operators, data recording engineers, company men and drillers. The rig team also includes supervisors, pump operators and operators of oil tubes. Catering includes cooking and cleaning for all personnel aboard the platform (see Offshore Night Cook), while transport jobs range from helicopter pilots to ferry personnel between the mainland and the rig.
Offshore job search
Find information from reputable sources on the wide variety of jobs available in the oil exploration platforms and see the descriptions and locations of the jobs that you have got interested in. Note the resources they offer free job listings and descriptions of opportunities, such as those found in the Resources section. There are available some sites that charge a fee for finding employment opportunities. Educational institutions and professional organizations such as the American Association of Petroleum Geologists and the American Institute of Professional Geologists often have lists of job opportunities in the industry as well as information on employment resources. Most companies fossil fuel exploration and production will also be good sources for information about this type of jobs.
You can find position of general labor \
deckhand
among leading oil and gas exploration companies.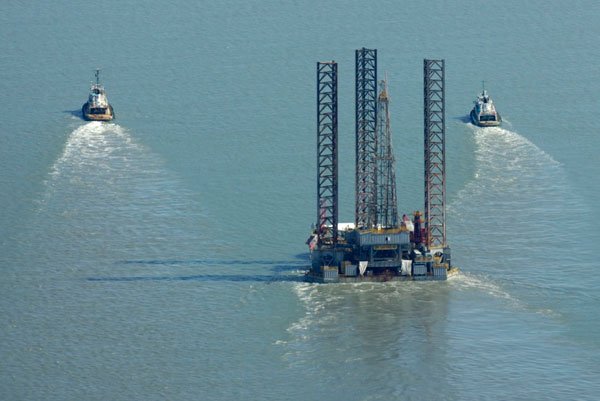 Repsol YPF SA. - Exploration, production, transportation and refining of oil and gas. It is based in Madrid, Spain Repsol Repsol Employment Channel
Angola Sonangol in Angola is estimated that more than 5 million barrels of oil reserves - sonangol.co.ao HR Direccao Rua Rainha Ginga, No. 22 - Luanda - Angolan Republic. Phone: +244-226-643967 E-mail: DRH@sonangol.co.ao
Find out what specific qualifications are needed for the jobs on the oil platforms that interest you. The positions for greenhand beginners are available, but in some jobs it is preferable to have experience in drilling operations or mechanical trade skills, while others may require a more formal academic education, such as engineering or geology. For example, for some positions like petroleum geologists and geoscientists it may be necessary or preferable to have an advanced degree (such as a master's or doctorate) in the field, specializing in petroleum geology.
Choose which job is suitable for you, considering that you will have to travel a lot and spend time away from home and spend long and unusual hours in all kinds of climates and weather conditions. The salary and benefits, on the other hand, are generally excellent. For example, payscale.com stipulates that a driller with less than one year of experience earned an average of $ 9.78 to $ 18.88 per hour in 2009 while a geologist in oil with less than one year of experience earned an average salary of between $US 65,000 to 92,000.
Job Application
1. Follow the specific instructions to order multiple jobs that are in the search results for which you are qualified, you find interesting that you would like to fulfill.
2. Apply for jobs online or by mail, depending on the preferred method of initial communication of each prospective employer.
3. Call the organization that may hire you if you have any specific question about a particular position that has not been answered clearly in the initial job offer.