How to start working offshore with no experience
Some vacancies of deckhand are available in Middle Africa:
Angola
, Congo, Central African Republic, Congo, Cameroon, Gabon, Equatorial Guinea, Sao Tome and Principe, Chad
How to get a job on oil rig as Deckhand
There are numerous job opportunities for people who intend to work on oil rig. The oil industry is one of the largest employers in the world. Oil companies are always in need of deck hands, painters, caterers, mechanics, electricians, welders, safety trainers, etc. As working conditions are difficult, there is always an inflow of people lacking expertise, but instead driven by great wish to work in the oil industry. This information is intended for freshers that a looking for the reliable info from trusted sources concerning how to get a job on oil rigs.
Requirements for candidates applying for a job on oil rig
Regardless of the position that suits you, the first thing you need to do is to prepare a resumé that highlights the skills required to do the work on oil rig. You need the knowledge of oil industry and awareness of the specifics of working on offshore platforms, as well as some basic skills or at least ability to obtain such, so you could reflect those skills/abilities in your resumé. There are several companies who can write a resumé for you for a fee. Otherwise there's an option to find an oil vacancy applicant resumé sample template online.
Once you have written your resumé, the second thing you need to do in order to get a job on oil rig is to pass a physical exam. Also you will have to pass a drug screening test and answer some questions concerning your background, when it comes to the interview. It is always to the best of your interests to answer all questions truthfully.
The minimum age to work on oil rig is 18 years old. Therefore, it is necessary to meet this criteria before applying for a job on oil rig. With regards to the educational requirements, employers are seeking to make sure of candidate's ability to do the job, rather than be informed of the degree or certification that you possess. The entry level jobs on oil rig require no formal education as such; however, people who are responsible for supervising or managing the low end staff, require higher levels of education. The work also offers enough options to advance in your career as employers want experienced employees for the positions of greater responsibility and they provide assistance in the training of new workers. There are many agencies that offer certification courses approved by the Coast Guard.
Get your job of Deckhand offshore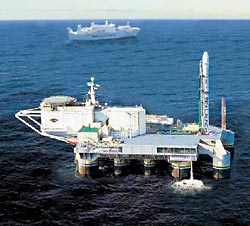 Saudi Aramco stands for the State Oil Company of Saudi Arabia. It is the largest oil company in the world of the country with the largest oil reserves and continuously increased crude oil and gas production. The company has the main office and is headquartered in Dhahran (Saudi Arabia).
National Iranian Oil Company/a> (NIOC). Based in Tehran and engaged in the production and distribution of oil and natural gas.

Qatar Petroleum (QP). Oil exploration, production, refining, transportation, and storage. Currently Qatar Petroleum is the third largest oil company in the world by the size of oil and gas reserves under its control.

Abu Dhabi National Oil Company. It is the national oil company of Abu Dhabi, the state-owned oil company of the United Arab Emirates (UAE), the fourth largest in the world. The information on submitting your deckhand CV can be found right on the company's official website.
There are many people who aspire to work on oil rigs, but the recruiters still don't take such candidates seriously, because they have little or no experience. Still, while relevant experience increases your chances of getting hired on offshore oil platforms greatly, not having expertise does not mean you won't be hired. One can apply for most entry level jobs without having any previous experience of working offshore. The most important thing that determines if you would succeed in an oil platform is your potential ability to learn things quickly.
The hours of work on an oil rig are longer as compared with working shifts in conventional fields, with an average amount of working hours ranging from 80 to 100 hours per week. Before heading out to work on an oil rig, you need to be prepared mentally, emotionally, and physically to the fact that a job on offshore platforms requires lots of traveling and there are moments when you might have to be away from home for weeks, even months. The working conditions are difficult and challenging, but if you are in good shape, you will not have any problem doing your work.
Wages and Benefits
People who do not have previous experience of working on an offshore oil rig get paid about $US 40,000 to $US 50,000 a year. The advantage is that you do not need to work for the whole year as most companies have a working structure in which employees work for three weeks and then get leave on shore for two weeks. Dishwashers and manual labor workers such as kitchen helpers, galleyhands etc. whose schedule says to them to work day to day, earn about $US 900 to $US 1000 per week. Food and accommodation is at the expense of the oil drilling company, and this is another advantage of working in the offshore industry.
This was some information on how to get a job on an oil rig. As mentioned above, offshore oil rig jobs are challenging, and workers on sea based oil rig will spend much time away from their family, but the salary offered by oil drilling contractors is competitive. We advise you to weigh and compare all your options before committing to this kind of the employment.
The offshore industry operates from the mid-twentieth century and will continue for a long time, since oil reserves across the world are plentiful. The constantly growing oil and gas industry never stops seeking for and hiring new workers, as old workforce retires.
You will get direct access to maritime companies and employment agencies to cover most suitable available vacancies and work on oil rigs. With the growing energy needs, the role of the shipping of oil and gas has never been more important, causing the growth of the industry that employs thousands of workers and highly qualified technical staff. There is a wide variety of jobs on offshore oil and gas deposit exploration and production.
The largest group consisting of workers engaged in the construction tasks and tasks of drilling and extraction of the oil accounts for about 30-35% of the total workforce on oil rig, with the remainder of the staff being managers, administrators and clerical staff like offshore rig clerk.
Of course, the salary range is also very wide for each of the oil job categories. To access any of these jobs, you must carefully analyze the characteristics and requirements of each of them, deciding which ones would suit your personal abilities and your existing training. Oil companies employ the staff from all around the world and from diverse backgrounds. Many companies position themselves as equal opportunity companies and don't fail to consider any applicant, regardless of their nationality or even training.
The work on board oil platform offers a number of advantages and disadvantages that should be taken into account and evaluated before deciding whether to invest your precious time and efforts into looking for job placement in oil offshore sector.
Advantages of working offshore
Exciting economic conditions because of the combination of income and no expenses - both accommodation and meals are free.
An opportunity to travel around the world and see exotic places, also free of charge.
A unique chance to meet very diverse people from different countries all over the world.
An opportunity for the career advancement and promotions.
The constant growth of oil industry provides potential to change companies and destinations.
Disadvantages of working offshore
Long shifts and long working hours, 12-14 hours per day 7 days a week 2-3 weeks in a row.
Possible problems with the sea and weather changes that can cause dizziness and other sicknesses.
Shared accommodation hardly corresponding to the comforts of home, shared by at least two people, which requires working towards mutual understanding and cooperation.