Offshore kitchen jobs openings on oil rig
Oil field kitchen vacancies for
inexperienced workers
in Kenya, Algeria, Nigeria, Uzbekistan, United Arab Emirates, Iran, Iraq, Kuwait, Qatar, Saudi Arabia
Offshore oil rig jobs keep attracting many young job seekers, and for a good reason. While in other fields and industries working scenario is grim, the oil rig industry is booming, with hundreds of vacancies generated in recent years. The reason is that the majority of staff are due to retire in the next 10 years, which is likely to create a shortage of human resources in oil production business. Therefore this seems an excellent time and opportunity for those who wish to start a career in this industry, especially as entry level workers that have big desire to work for big salary but, alas, no experience that the oil companies are lookig for in their desired candidates. Here's an excellent piece of news, though.
Have a look at the related businesses that provide au[iliary services for oil drilling contractors: they also have offshore vacancies available, and through them anyone, man or woman, is capable of getting that so much needed experience of having worked offshore on the oil platforms. One of such industries is catering. I means both catering in general and catering industry at sea in particular. To satisfy a great demand for caterers, they are looking for both inexperience people as well as for professionals with the past experience of having performed not important which job in hospitality and cleaning businesses. To make long story short, at any given time there are several job openings out there for new positions in the industry of catering. Below goes the list of the most frequently available positions in the catering that focusses on jobs offshore and their responsibilities job descriptions.
Catering positions and kitchen job descriptions of vacancies normally available on oil rigs, offshore and land based
Camp boss
Camp chief and administrator is the highest position in the catering crew at sea, both on the vessels and offshore oil drilling units. Camp boss is responsible for the smooth running of the entire catering service. This high ranking employee oversees the work of the subordinate chefs, cooks, night bakers, housekeepers and is responsible for maintenance of the offshore galley equipment available on board. He or she is responsible for keeping staff morale high and supply and serving high quality, nutritious food to oil rig workers and employees. This is a 12 hours shift duty, which also includes monitoring the sanitary standards adherence in the recreation area and in the bedrooms.
Chef / Lead cook
Another offshore position of great prestige, for those seeking excellently salaried employment opportunities offshore. However, previous experience in food cooking/serving and kitchen maintenance is required for this job. That is to make the food served at sea comparable to the quality of meals in five star restaurants. It is imperative that the head cook / chef has excellent culinary skills and outstanding managerial qualities. A candidate may be considered for this position even if no previous experience of offshore work. Still experience in handling the kitchen is essential. Chefs can earn the salary anywhere between 60k to 70k of the US dollars a year. With other companies in jurisdictions like Saudi Arabia annual income of chefs working for Saudi Aramco or off Dubai shore in the United Arab Emirates can go far beyond those figures, resulting in earning hundreds of the thousands dollars per year.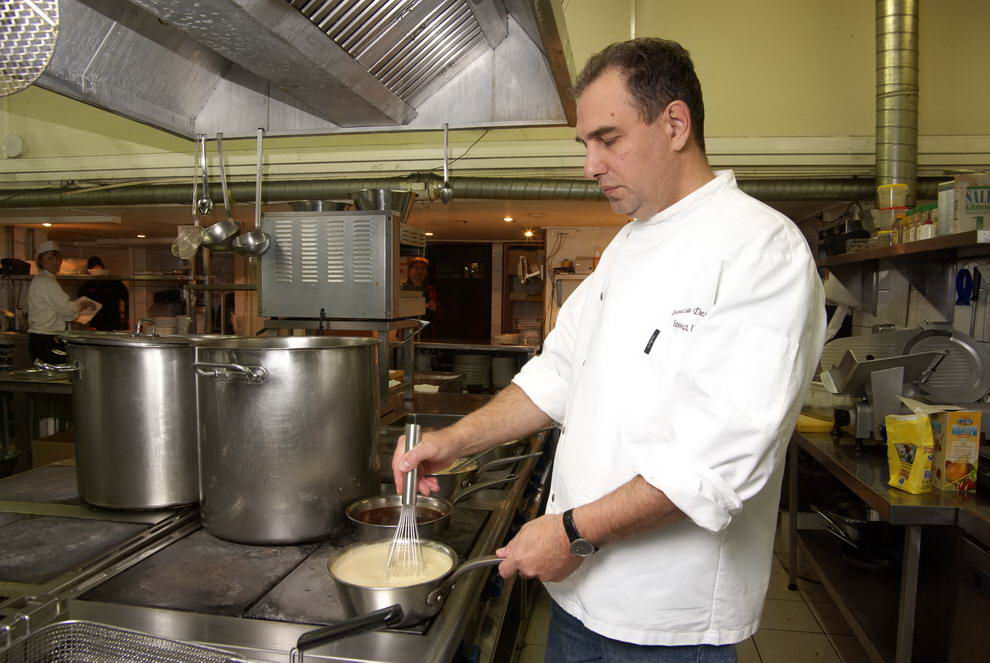 cook Assistant working in the United Kingdom.
Kitchen helper
cook Assistant works under the supervision of the chef and consequently performs the functions assigned to him by the chef cook. The catering job description for this position includes preparation of 4-6 main dishes and kitchen, and also running the kitchen efficiently in the absence of chef cook. Often, candidates with credentials of a lead cook, but with less experience are not considered for the position of assistant cook. That is the case when training turns out too good for the position that is available. Usually a kitchen helper can earn the salary somewhere around $US 50,000.
Night Baker
Due to the long hours at sea, catering staff gets all its food supplies from in-house bakery. A night baker is responsible for baking bread and other bakery items such as cakes, muffins, etc. for the next day. This is a night shift job with shift extending for 12 hours. For smaller teams, a kitchen assistant often serves as a baker at night, while the big teams have two different positions. Night Baker wages range from 50k to 60k, but there'a always room for the promotion and hence the bigger salary.
Galley hand
Cleanliness and order is a responsibility that involves continuous cleaning process with the duties assuming cleaning, washing, scratching etc. as part of maintenance the whole platform in order. Although this entry level position, in fact one of the lowest ranked positions in the kitchen, starts below the minimum wage level, the opportunity to move up the career ladder with aim to get promoted to one of the maintenance supervisor position is always valid.
Steward
Years of experience as an administrator can help you gain a better position in the catering at sea. An experienced steward is eligible to earn the salary around 40k to 50k - often more. Can be expected to get promoted to the position of camp boss. Not bad at all for a person with high school diploma only?
The bottomline is here: if you are interested in pursuing not important which career at offshore platforms, the galley work (kitchen work at sea) is a good way to start. That is especially considering that a diploma or a degree is not on the list of the pre-requisites to qualify for the majority of jobs aboard offshore oil drilling platform.
The next review to come: Nursing oil rig jobs, offshore medic vacancies in the Gulf of Mexico. Discussion on the Forum welcomed.