Openings in Australia's oil drilling industry
Offshore oil drilling jobs in Australia
Lots of offshore oil drilling jobs are available in Australia region, which makes Australia especially interesting for both entry level and experienced candidates aspiring to fill every kind of vacancy in the worldwide oil exploration industry. If we take Perth area only, there are over 50 different oil drilling and gas operating companies that continuously hire personnel, including entry level workers with no previous experience needed, such as roustabouts and roughnecks paying them extremely good salary. If you are able to follow simple advice, you've got every chance to get employed with one or other of these companies, provided your physical condition is on the due level. Until you gain sufficient expertise, skills and competence in the position you've been hired for, you gonna be classified as greenhand, within specific oil rig industry terms.
That can be explained in part by both stressful and dangerous work conditions on oil rigs and drilling platforms generally, which should not be feared, though. With sound attitude and willingness to learn and stick to discipline rig worker is exposed to lesser risks than many land based trades and even ultimate sports like speed racing. Safety matters are taken very seriously on Australian offshore oil installation. Both workers with years of experience and excellent record and greenhands are obligated to attend their working duties or job responsibilities specific safety courses with emphases on fire & rescue measures. It goes without saying that should upon arrival you demonstrate frivolous or negligent attitude towards your own or your offshore co-workers safety, such candidate wouldn't be allowed to put their foot on the deck or approach to mechanisms or servicing oil drilling machinery. Knowing how and in which sequel to act once emergency occurs is what initial onboard safety induction course is aimed at. Besides relying on every employee and worker being well instructed and trained, every oil rig employs professional fire fighting workers and medics to provide qualified medical assistance in such emergency situations.
Life on oil drilling platforms of Australia
Life on oil drilling platforms of Australia is regulated even outside the time or place onboard when worker is immediately involved in performing his service responsibilities. In time when you are free from performing your work duties is generally comfortable, and accommodation conditions could well be compared to hotels. Smooth operation of the stuff employed in catering department of every specific oil rig at sea ensures every employee or workers's everyday living and recreational need is taken care of adequately. Regular meals and snacks are being served on schedule 24 hours a day, and that's a process that is never being interrupted. By the way that's why personnel such as days and night cooks, bakers, chefs, stewards, dishwashers are also in demand on the offshore oil rigs in Australia.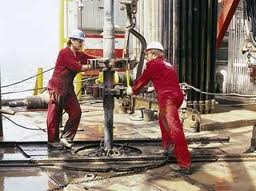 Besides good food, laundry, immediate medical assistance, and everything related to accommodation being catered for, the workers also have access to some of the most modern means of communication like cell phones and satellite webcam communication with family and friends who stay on shore. Sports facilities on many of Australian oil drilling platforms are better than in five star hotels. Cinema and other means of entertainment are available when you are off and not required to work.
Roustabouts and roughnecks needed, but not only
I don't think that hard and physically demanding work you'll normally have to perform be you a greenhand roustabout, roughneck, or a simple pot washer or kitchen assistant (who also gets extremely good pay you could never expect if you work onshore in a restaurant or a cafe) would be sort of big revelation for someone employed on Australian oil rigs for the first time, but the good thing is you'll be lucky to work close to and earn your salary together with great people, men and women, you could rely upon not only in emergency on an oil rig, but be good friends while off work. Team spirit is very important, and that's regardless of whether your job is on offshore oil rigs Australia, North Sea off Scotland or Norway shore, the USA, or Canada, or Russia. The income is impressive at every position and every level, regardless of your whereabouts. If we take randomle, median income for oil rig electrician stays somewhere between $63,000 and $65,000 per year. That's nearly twice as much as yearly income of electrician in the Australia's land based commercial construction and three times more than electrician would earn if employed in housing construction. Better paid than on offshore oil rigs electricians, probably, are in the motion picture and video industry, where electricians annual salary, according to some sources, exceeds $75,000.
If you're lucky and you do land your very first entry level oil rig job with one of the numerous Australian oil and gas companies in the domain of offshore exploration of oil deposits at sea, you may be looking forward to work as a part of team composed from great people, real masters of their trade, be it roughneck, derrickman, driller, or oil drilling platform manager. It's pleasure to earn big bucks for work that no one could perform better than you.
Oil & gas companies that hire in Australia
Here comes the list of some of the major Australian oil and gas companies, completed to the best of our knowledge:
Australian Worldwide Exploration Ltd
Woodside Energy Ltd
ExxonMobil Australia (Esso)
Oil Search Ltd is the biggest oil & gas production company doing their business in Papua New Guinea (PNG)
Santos Ltd, oil and gas exploration and production company than has been implementing projects across Australia and Pacific
Chevron Australia
BHP Billiton Petroleum
INPEX, needs people for implementing projects in Australia and the Timor Sea
Total Australia
Mosaic Oil - New Zealand, Western Australia, Queensland.
Origin Energy
OMV Australia Pty Ltd
OMV Aktiengesellschaft group, hires in Australia and New Zealand, conducts oil exploration and drilling activities offshore of the western coast of Australia.
ROC Oil Company, Sydney headquartered
Shell Australia
Nido Petroleum Ltd, has offices in Perth.
Tap Oil Ltd, Perth
QGC
Arrow Energy
Beach Petroleum Ltd, does oil business in Australia, New Zealand, Papua New Guinea, Egypt, Spain and Albania
Magellan Petroleum Australia
Metgasco Limited, has presence in New South Wales.
Strike Energy drills for oil in Australia and the USA
Victoria Petroleum NL
The others worth looking for oil rig employment with:
Precision Directional Drilling Pty Ltd - can be found in Palmwoods, Australia; specialises in drilling oil and gas wells
Tcl International Australia Pty Ltd, headquartered in Bungowannah, Australia, needs drillers, roughnecks and roustabouts to be involved in drilling oil and gas wells
Australian Drilling Associates, Melbourne, Australia
Working on Australia offshore oil rigs requires certification
Practically every position on Australia offshore oil rigs requires several certifications, and if you hold at list one of them, for example such as the first aid, emergency response etc. certificate, you are already ahead of your competitors for that one roustabout position even if both of you do not have prior experience. It's highly recommended that you think of getting one before you even start looking for applying to work on the Australian oil rigs. The more certifications you have and the more courses you've completed, such a motorman, electrician, paramedic, scuba diving, welder, the better for yourself. It's equally important for skilled technical personnel involved immediately in oil drilling as well as for the assisting stuff like mechanics or administrative and engineering positions. The courses are available from quite a number of training providers, like, for example, Global TCC that provides 5 day course for individuals that plan to work as greenhand roustabouts on oil rigs offshore Australia and generally across the world.
On the Australian offshore oil rigging facilities offering rig jobs it's normally required that the people work by shifts of 12 hours by duration. The majority of the rig workers, employees and engineers should be ready to work by day and during night time, alternating the first with the others. Even if you have completed your duties, you may be required to stay on alert because you could be summoned at every moment if the need of the assistance to the working shift is needed. Before and after your roster is completed you are flown to offshore oil rig in Australia by helicopter, which means fast and safe transportation. By the way, helicopter pilot may also be another entry level position for Australia oil rigs. The salary is very impressive, the income can be envied by many high paid positions in the land based industries.
Rosters
As for the schedules, the may be different, but normally that's fortnight aboard the offshore platform and seven days off on the shore, or equally two weeks offshore and two weeks on land. In any case, there's much time to be spent away from your family and your close people, therefore being good communicator and being able to get along with people well is important.
If after everything you've read so far you feel like being still attracted by the options offered by the oil exploration industry, then listen to more advice, and have good luck in searching for your dream oil rig job in Australia.